Renewables on the rise in Alaska: Alaska has the 12th greatest battery storage capacity in the country and the 5th fastest growth over past decade
Media Contacts
Senior Director, Campaign for 100% Renewable Energy, Environment America Research & Policy Center

Associate Director and Senior Policy Analyst, Frontier Group
[email protected]
ANCHORAGE, AK – Alaska ranks 12th in the nation for total battery capacity, and had the 5th fastest growth over the last decade according to a new online dashboard released today by Alaska Environment Research & Policy Center. The dashboard, Renewables on the Rise 2022, documents the growth of six key clean energy technologies across the United States over the past decade: solar power, wind power, battery storage, energy efficiency, electric vehicles and electric vehicle charging stations. While Alaska's overall renewable energy growth lags behind much of the nation, it's off the racing blocks with the 9th fastest growth in wind in the nation over the last decade by percentage. This analysis comes as our western communities rebuild after Typhoon Merbok, Inflation Reduction Act resources for renewable energy become available, and Alaska's gas prices rise above $5 again.
Renewables On The Rise Dashboard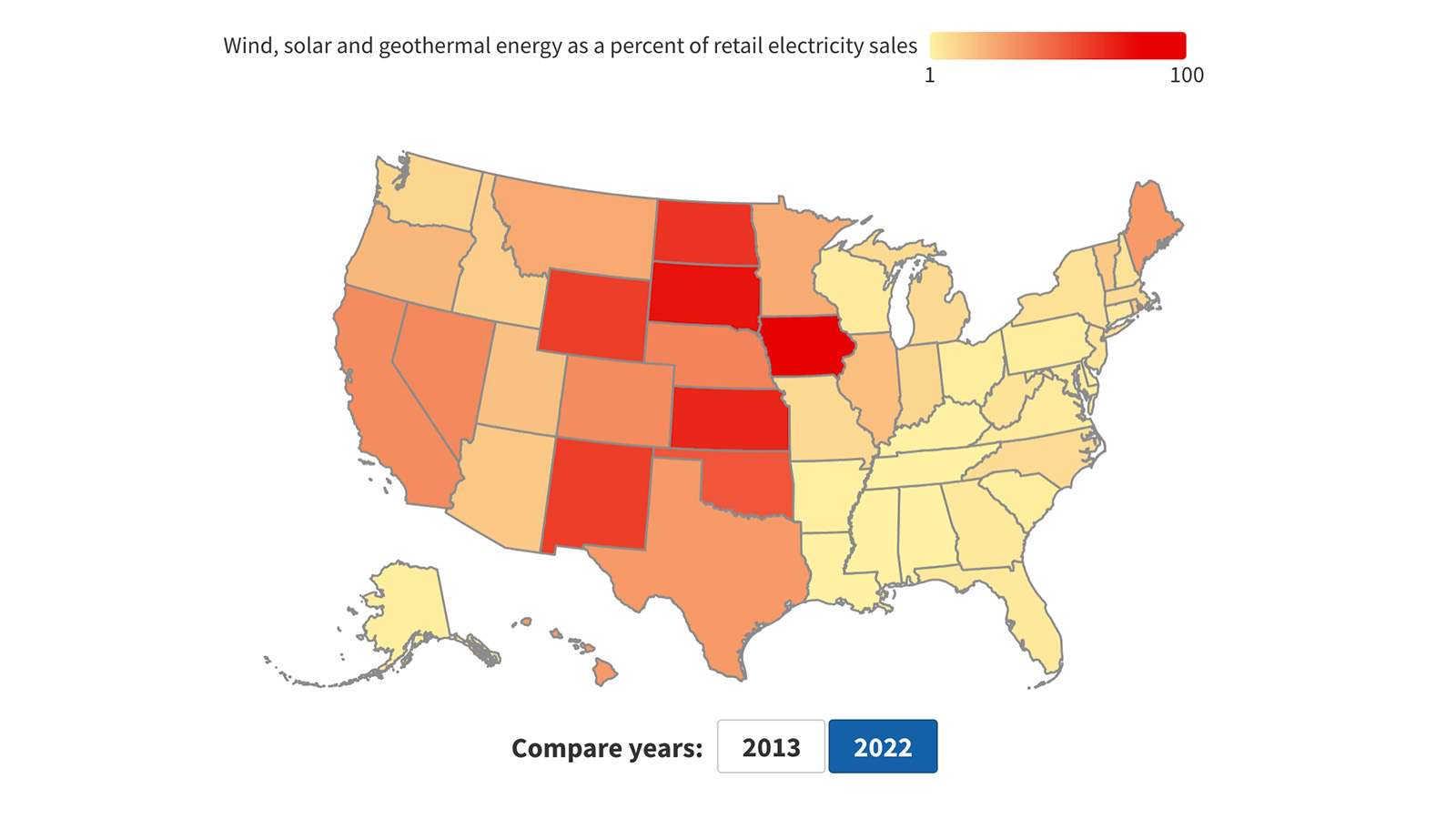 Renewables On The Rise Dashboard
"The transition to renewable energy is essential to providing a livable climate for our children and grandchildren. It's exciting to see Alaska begin to make real progress towards a cleaner and healthier system "said Dyani Chapman, State Director with Alaska Environment Research & Policy Center. "We can build upon our success with wind and batteries to catch up with the rest of the country on building a sustainable energy system." 
Solar is a field that has seen growth, but still lags behind. The 49th state ranks 49th for total solar power generation with only 11.7 GWh in 2021. Electric vehicles are seeing slower growth– only 356 EV/PHEVs were sold in 2021. On the other hand, there are now 90 EV charging ports, compared to zero in 2013. 
In addition to highlighting states that have made the most progress in adopting renewable energy technologies, the research also details the rapid gains achieved nationally over the past decade. According to the report, America produced more than three times as much renewable electricity from the sun, the wind and the earth in 2021 as in 2012. 
The Inflation Reduction Act, passed by Congress this summer and signed by President Biden offers consumers tax credits and discounts on more than a dozen types of energy-saving purchases, including new and used electric vehicles, rooftop solar, geothermal heating and cooling, upgrading electric panels, and heat pump HVAC systems, water heaters and clothes dryers. Some of the credits are in effect now, and many will take effect in 2023. 
Modeling by Energy Innovation found that the provisions in the Inflation Reduction Act will spur clean energy and reduce pollution from fossil fuels, preventing 3,700 to 3,900 deaths and 100,000 asthma attacks each year by 2030.
"This data offers a timely reminder that we have an immense, largely untapped opportunity when it comes to clean energy here in Alaska and we should take full advantage of federal tax credits to help realize our clean energy potential," Chapman said. "Alaskans are already reaping the benefits of the progress we've made so far, but there is so much more we can do to usher in the clean, renewable energy future we need, starting with passing a renewable portfolio standard for our utilities and fixing power cost equalization to ease our rural communities move toward solar, wind, and geothermal."
Topics