Arizona ranks among national leaders in solar growth
Media Contacts
Senior Director, Campaign for 100% Renewable Energy, Environment America Research & Policy Center

Associate Director and Senior Policy Analyst, Frontier Group
[email protected]
MESA, Ariz. – Arizona ranks 5th in the nation for growth in solar power generation since 2012, according to a new online dashboard released today by Environment Arizona Research & Policy Center.
Renewables On The Rise Dashboard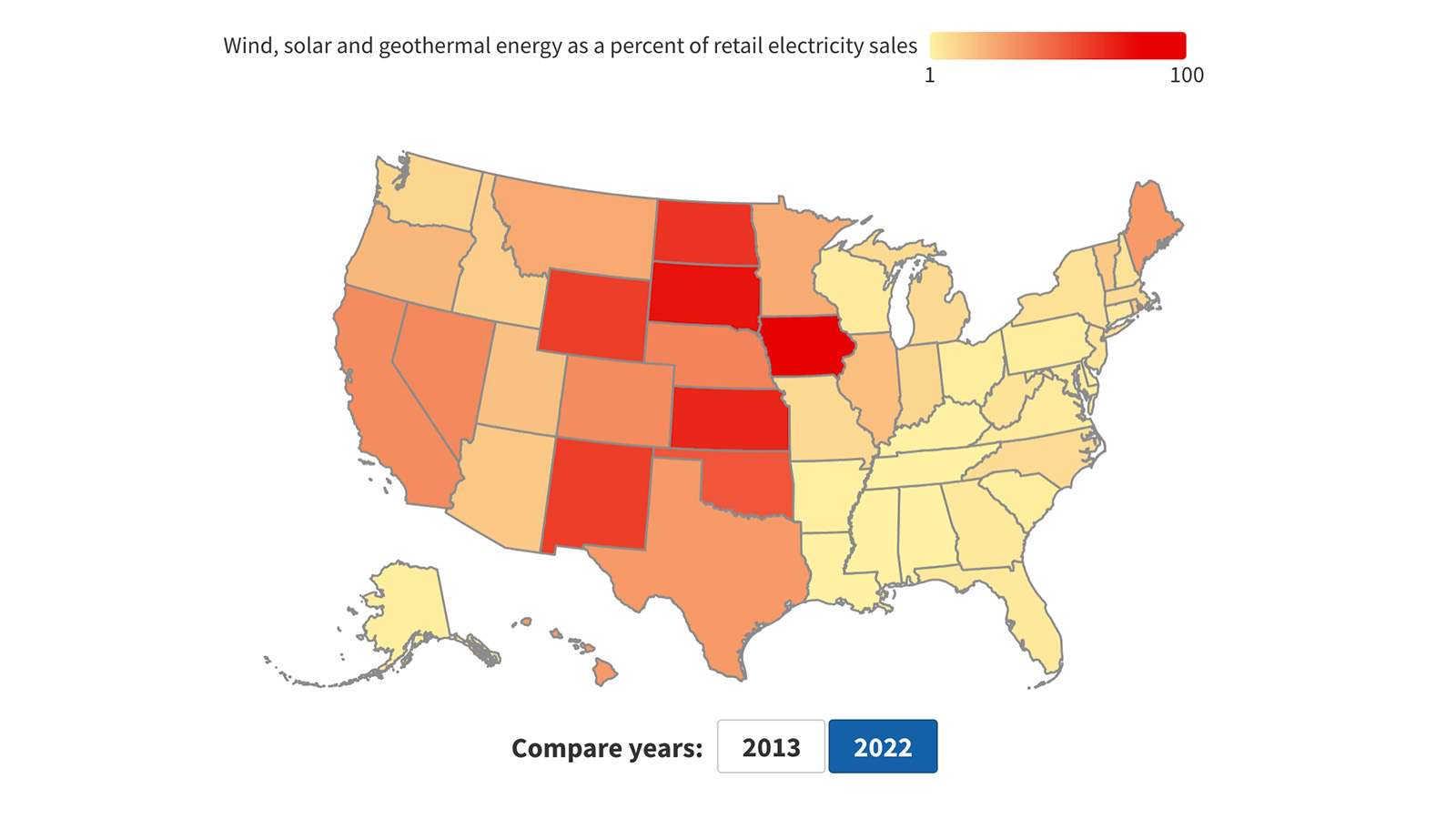 Renewables On The Rise Dashboard
The dashboard, Renewables on the Rise 2022, documents the growth of six key clean energy technologies across the United States over the past decade: solar power, wind power, battery storage, energy efficiency, electric vehicles and electric vehicle charging stations. 
Arizona has seen a 6-fold increase in solar power generation since 2012, putting it behind only California, Texas, Florida and North Carolina for solar growth. 
"Arizona has been lighting the way when it comes to solar power," said Johanna Neumann, senior director of Environment Arizona Research & Policy Center's Campaign for 100% Renewable Energy. "For Arizonans to be able to continue looking forward to a cleaner, healthier future, state and local policy makers need to advance and implement policies that significantly incorporate the rapid adoption of abundant, renewable power from the sun." 
In addition to strong growth in solar, Arizona tripled the amount of electricity it generates from wind power over the past decade. As of 2021, Arizona generates enough wind and solar power to meet 14% of its electricity demand. 
Arizona is also working to clean up its transportation sector. The dashboard reveals that nearly 15,000 electric vehicles were sold in the state in 2021, ranking it 10th in the nation. The state also saw a surge in electric car chargers over the past decade, from only 89 chargers statewide in 2012 to more than 2,000 charging ports in 2021.
Renewables are rising across the country. According to the dashboard, America produced more than three times as much renewable electricity from the sun, the wind and the earth in 2021 as in 2012. 
The Inflation Reduction Act, passed by Congress this summer and signed by President Biden offers consumers tax credits and discounts on more than a dozen types of energy-saving purchases, including new and used electric vehicles, rooftop solar, geothermal heating and cooling, upgrading electric panels, and heat pump HVAC systems, water heaters and clothes dryers. Some of the credits are in effect now, and many will take effect in 2023. 
Modeling by Energy Innovation found that the provisions in the Inflation Reduction Act will spur clean energy and reduce pollution from fossil fuels, preventing up to 4,500 premature deaths and up to 119,000 asthma attacks annually by 2030.
"Millions of Americans and Arizonans are already reaping the benefits of the dramatic clean energy progress we've made so far," Neumann said. "With federal tax credits promising to turbocharge clean energy adoption, now is the time for state and local policy makers in Arizona to put in place policies that will allow clean energy to continue to flourish."
Topics