California leads nation in solar power, electric vehicle adoption, and more according to Renewables on the Rise 2022
Media Contacts
Senior Director, Campaign for 100% Renewable Energy, Environment America Research & Policy Center

Associate Director and Senior Policy Analyst, Frontier Group
[email protected]
LOS ANGELES – California led the nation for total solar generation in 2021 and ranked #2 for total renewable energy generation according to a new online dashboard released today by Environment California Research & Policy Center. The dashboard, Renewables on the Rise 2022, documents state-by-state growth of key clean energy technologies across the United States over the past decade including solar and wind, battery storage, energy efficiency, electric vehicles and electric vehicle charging stations. 
Renewables On The Rise Dashboard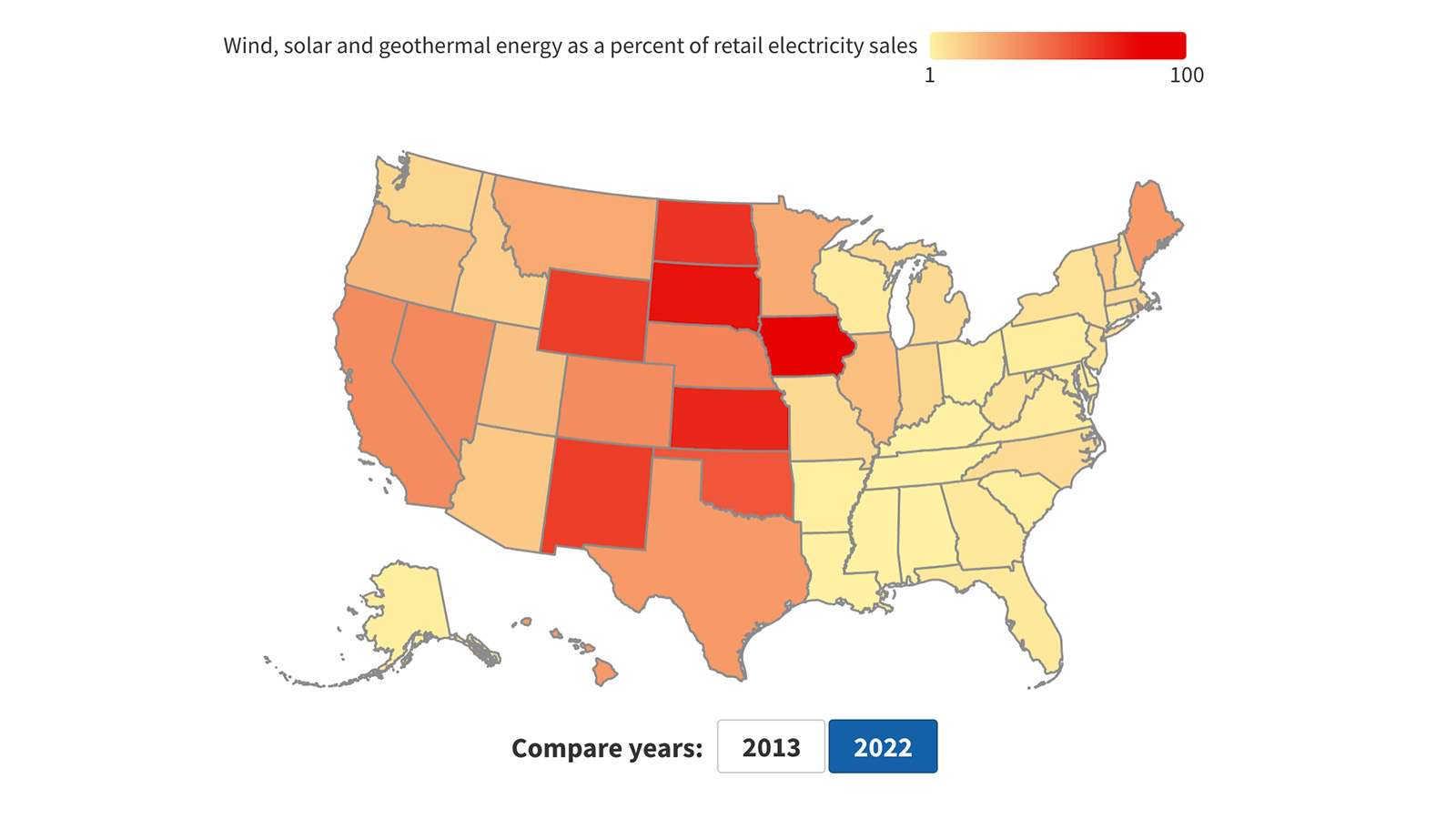 Renewables On The Rise Dashboard
"Across nearly all clean energy technologies, California has set the standard for clean energy growth this past decade." said Steven King, Clean Energy Advocate with Environment California Research & Policy Center. " Our state's leadership in solar power, electric vehicles, and energy storage is building a cleaner, healthier future where we can better tap our renewable energy potential."
Since 2012, California has seen a 13-fold increase in the amount of electricity it gets from the sun in addition to a 60% increase in wind power production. This analysis comes on the heels of a summer where Californians experienced extreme heat waves, wildfires, and drought which have emphasized the necessity of transitioning to a clean energy economy as quickly as possible.
In addition to ranking #1 for solar generation, California also ranks #1 in total battery capacity, electric vehicle sales, and electric vehicle charging ports as of 2021. Strong and supportive policies, combined with improving technologies and falling prices, have played a key role in driving adoption. For example, the state's net energy metering program has provided compelling incentives for consumers to install solar panels on their homes and businesses. The state's recent commitment to phase out gas-powered cars and plans to embrace offshore wind will only continue to drive the growth of clean energy technologies.
"With our state's bold energy and climate leadership over the past two decades, it's no surprise that California is a national leader in the transition to renewable energy," said Fran Pavley, former State Senator and Environmental Policy Director for the USC Schwarzenegger Institute.  "From setting the goal of achieving 100% clean energy by 2045 to implementing policies that are good for both our environment and the economy, we have come a long way as a state. With the accelerating pace of droughts, wildfires, and extreme heat events, we need to do even more to cut down on fossil fuel production. From investing in solar and storage, offshore wind, and requiring a just transition to cleaner cars and trucks, California is positioned to meet these challenges head on with continued state leadership."
In addition to highlighting states that have made the most progress in adopting renewable energy technologies, the research details rapid national gains for clean energy. According to the report, America produced more than three times as much renewable electricity from the sun and the wind in 2021 as in 2012. 
The Inflation Reduction Act, passed by Congress this summer and signed by President Biden offers consumers tax credits and discounts on more than a dozen types of energy-saving purchases, including new and used electric vehicles, rooftop solar, geothermal heating and cooling, upgrading electric panels, and heat pump HVAC systems. Some of the credits are in effect now, and many will take effect in 2023. Modeling by Energy Innovation found that the provisions in the Inflation Reduction Act will spur clean energy and reduce pollution from fossil fuels, preventing up to 4,500 premature deaths and up to 119,000 asthma attacks annually by 2030.
"Millions of Americans and Californians are already reaping the benefits of the dramatic clean energy progress we've made so far," King said. "With federal tax credits promising to turbocharge clean energy, now is the time for California to lean in and transform California's 100% clean energy goal into reality, and the sooner the better. State regulators should implement strong consumer incentives for rooftop solar and storage systems to allow rooftop solar to thrive and the state should continue to set and strive to meet ambitious goals for technologies like offshore wind."
Topics