States and cities going renewable
Governors, state legislators, mayors and other local leaders are leading the way on clean, renewable energy.
Given the current challenges of passing legislation through Congress in Washington, D.C., we need our governors, state legislators, mayors and other local leaders to lead the way on clean, renewable energy. State action yields big results: Thanks in large part to state policies Environment America and our allies have worked to secure, America gets more than three times as much power from the wind, the sun and the earth as we did in 2013 and all 50 states are seeing clean energy growth.
We helped launch and continue to support effort to convince states to commit to 100% clean and renewable energy.
In 2023, Michigan adopted a goal of 100% clean energy by 2040 and Minnesota committed to 100% clean energy by 2040 and more than doubled state targets to grow renewable energy. In 2022, Rhode Island committed to 100% renewable electricity. In 2021, Environment Virginia and Environment Oregon helped their states join the ranks of those committed to 100% clean or renewable electricity. These victories build on progress secured by Environment California, Environment New Mexico, Environment Washington and Environment Maine to win the approval of similar "100%" bills in their states dating back to 2018.
Where states have not yet gotten on the bandwagon, our state and local advocates and organizers are winning local progress, too. We have already helped persuade cities including Tempe, Arizona; Atlanta and Savannah, Georgia; Tampa, St. Petersburg and Tallahassee, Florida, to commit to going 100% renewable.
Our researchers, advocates, members and activists have won significant progress on clean energy over the past few decades, including policies that have resulted in greater energy efficiency, more wind power and more solar power in 25 states.
Most Americans support a commitment to 100% renewable energy. Today 1 in 3  Americans lives in a community already committed to 100% clean or renewable power.  For the environment and our health, states and cities should continue to set their sights on the future we need.
Renewables On The Rise Dashboard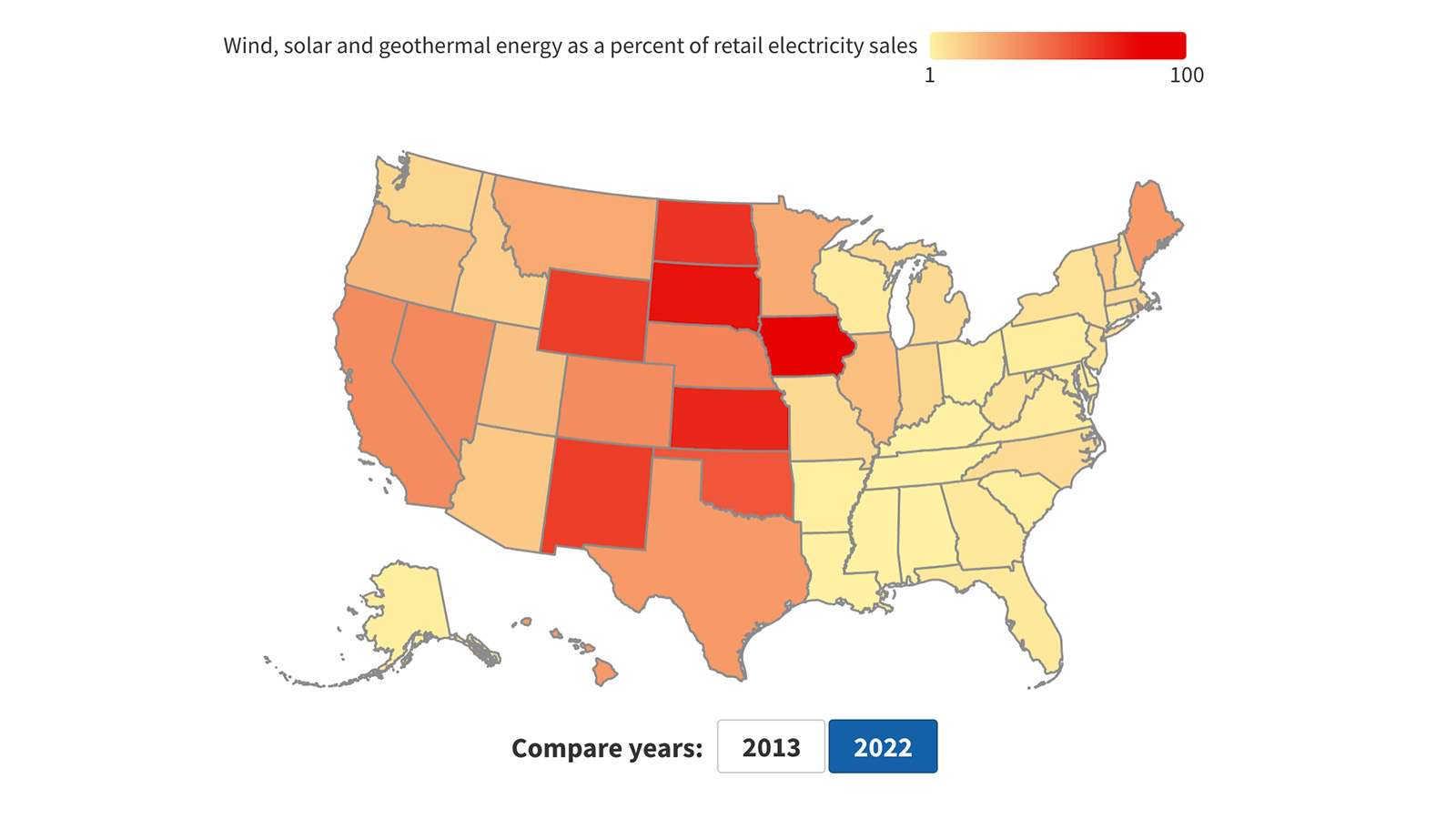 Renewables On The Rise Dashboard
Topics
Authors
Senior Director, Campaign for 100% Renewable Energy, Environment America
Johanna directs strategy and staff for Environment America's energy campaigns at the local, state and national level. In her prior positions, she led the campaign to ban smoking in all Maryland workplaces, helped stop the construction of a new nuclear reactor on the shores of the Chesapeake Bay and helped build the support necessary to pass the EmPOWER Maryland Act, which set a goal of reducing the state's per capita electricity use by 15 percent. She also currently serves on the board of Community Action Works. Johanna lives in Amherst, Massachusetts, with her family, where she enjoys growing dahlias, biking and the occasional game of goaltimate. 
Senior Web Developer, Editorial & Creative Team, The Public Interest Network
Ryan creates web content and manages a network of more than 100 websites with the Creative Team for the Public Interest Network. Ryan's areas of expertise include HTML and Drupal development, graphic design, branding, messaging and digital strategy for advocacy and social change campaigns. Ryan lives in his family farmhouse with his wife and kids in Britton, S.D., where they raise chickens, garden and enjoy the nearby lakes.