How old forests help fight climate change
Ever wondered exactly how trees (especially old ones) keep our climate healthy and stable? The answer is in their unparalleled ability to store carbon — just one of the many reasons we need to protect our nation's forests.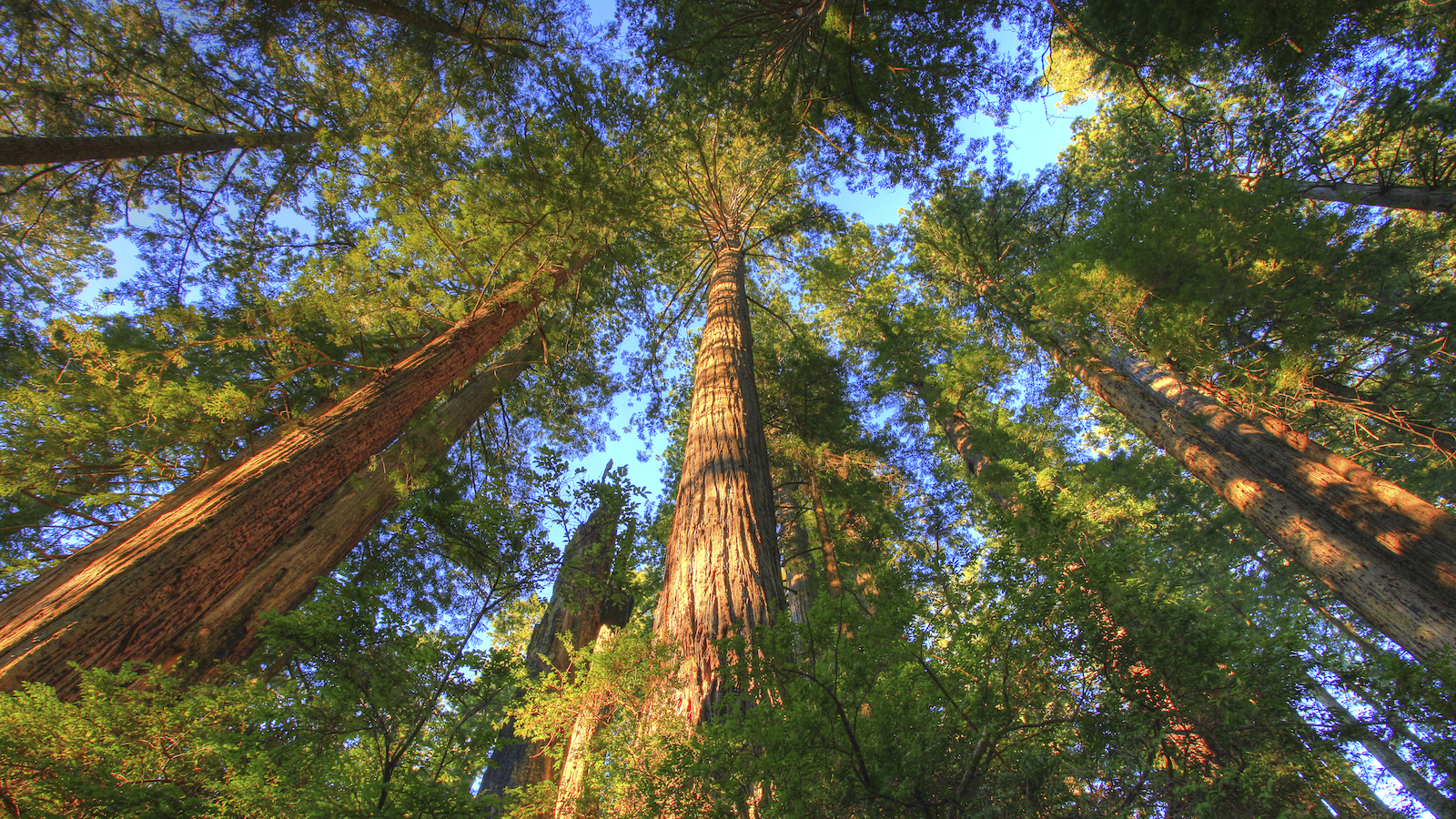 One of our greatest natural tools for fighting the climate crisis have been right in front of us all along: our forests.
Every year, forests in the United States absorb 13% of the country's carbon emissions, and if we protect them from logging, they could do so much more.
Trees remove carbon from the atmosphere and store it on a scale that can't be matched by any man-made technology. Through photosynthesis, they take in carbon dioxide and water to manufacture sugar and release oxygen. Some of that sugar is used as energy while the rest is used to build new branches, roots and bark. The larger the tree, the more carbon is safely stored inside. Plus older forests accumulated centuries of carbon in living and dead plant materials and soils. 
There is no upper limit on how much carbon a tree can store over time. As trees age, their annual rate of carbon accumulation accelerates. Each year, trees add more mass than they did the previous year, meaning they take more and more carbon out of the atmosphere as they age. (Some large trees can add the same amount of carbon in a year as is stored by an entire smaller tree.)
Our nation's largest trees are superheroes when it comes to fighting the climate crisis. But even superheroes need help sometimes — many of our nation's oldest trees are under threat from logging and development, putting wildlife, clean water, and our climate at further risk.
That's why we celebrated in January when the Biden administration restored Roadless Rule protections for the Tongass National Forest in Alaska, an iconic temperate rainforest  home to trees older than the United States itself and abundant salmon and wildlife.
Together with activists around the country, our advocacy for the Tongass goes back decades. In 2001, our national network helped win the original Roadless Rule. We gathered and delivered nearly 700,000 public comments — more than half of all comments submitted — from our members and supporters.
We've worked to defend the Tongass ever since, taking the Trump administration to court when it tried to resume logging in roadless areas, and rallying public support for this incredible forest. And now, the Biden administration is safeguarding this incredible land from development.
Still, far too many other mature and old-growth forests are at risk of being chopped down. From North Carolina to Oregon, 22  mature and old-growth forests on federal lands have been targeted for logging. If allowed to move forward, these logging projects would cut down nearly 370,000 acres of our most important allies in the climate crisis. Additionally, a recent study identified over 50 million acres of federal mature and old-growth forests with no protections. 
More than 95% of our nation's wood supply comes from non-federal lands, and much of this wood is from small-diameter logs. Yet the Forest Service is still driven to meet timber production benchmarks, and is sacrificing some of our most valuable natural resources to do so.
One of these projects is currently targeting large ponderosa pines in the Black Hills of South Dakota and Wyoming. These trees can grow up to 200 feet tall, but they take centuries to achieve that height. In West Virginia, the Monongahela National Forest is at risk of falling victim to a project that would clear-cut more than 3,000 acres of mature hardwood forest, two-thirds of the trees targeted being over 100 years old. The Black Ram project in Montana would cut 4,000 acres of 600-year-old ancient larch in Kootenai National Forest.
It took centuries for these forests to accumulate the carbon they store, and even if they were replanted, it would take hundreds of years for new trees to recapture it. Logging mature trees would only result in more carbon released to the atmosphere at a time when reducing our greenhouse gas emissions is critical.
But if we let these forests continue to grow, their ability to store carbon will only increase. In Green Mountain National Forest, Vermont, many trees slated for logging are just reaching maturity at 80 years old. In the decades to come, this forest could store two to four times as much carbon as it does now. 
In April 2022, President Biden issued an executive order directing federal agencies to protect mature and old-growth forests, but the administration has yet to establish durable protections for them. A few months later, environmental groups, including Environment America, delivered 122,000 public comments urging the Department of the Interior and the Department of Agriculture to move quickly to protect mature and old-growth forests on federal lands.
Together, we can preserve our country's wild places, protect the wildlife that depend on them, and help stave off the worst consequences of global warming — all by simply letting mature trees grow.
Tell Home Depot: Protect the boreal forest
Tell Home Depot: Protect the boreal forest
By committing to preserving the boreal, The Home Depot will establish itself as a leader in sustainable forestry.
Take Action
Topics
Authors
Director, Public Lands Campaign, Environment America
Ellen runs campaigns to protect America's beautiful places, from local beachfronts to remote mountain peaks. Prior to her current role, Ellen worked as the organizing director for Environment America's Climate Defenders campaign. Ellen lives in Denver, where she likes to hike in Colorado's mountains.