Environment Oregon's 2023 Legislative Agenda
Environment Oregon outlines our legislative priorities for the 2023 legislative session, as we work to reduce plastic pollution, transition to clean, renewable energy, stop toxic threats, protect Oregon's wildlife and special places, and more.
Every day, we see more heartbreaking evidence of the damage being done to our planet: climate change, plastic pollution, wildlife disappearing forever. But we also see solutions all around us: solar and wind power, cities that are increasingly more walkable, bikeable, and transit friendly, restoring critical wildlife habitat, and more. At Environment Oregon, our mission is to transform the power of our imaginations and our ideas into change that protects these special places and makes our world a greener and healthier place for all.
Here are our program priorities for 2023.
Putting Wildlife Over Waste
Nothing we use for a few minutes should pollute the environment and harm wildlife for hundreds of years. Plastic pollution is creating an environmental disaster for ocean wildlife: plastic and other marine debris kills millions of sea turtles, seabirds and marine mammals every year. Plastic also contributes to climate change at every step of its lifecycle, from production to pollution. It's time to move beyond single-use plastic by getting rid of the most harmful waste, and stopping the use of things we truly don't need.
That's why Environment Oregon supports:
A statewide ban on polystyrene takeout containers and cups (SB 543).

One of the most egregious single-use plastics is polystyrene, more commonly known as Styrofoam. A proposed bill would ban polystyrene takeout containers and cups across the state.

Reducing plastic at the source (SB 544).

Under a proposed bill, producers will be required to reduce the amount of plastics and plastic products they produce by 25%. As the saying goes, if your bathtub is overflowing, you wouldn't start by bailing out the water, you'd start by turning off the tap. We need to "turn off the tap" and reduce the amount of plastics entering the market in the first place, resulting in less production of plastics overall. 

Legalizing reusables (SB 545).

Currently, Oregon's health code does not allow consumers or store-owned reusable containers to be used in bulk sections or for produce. A proposed bill would update Oregon health code to establish legal reuse systems and consumer opportunities to bring their own containers to cut down on wasteful packaging.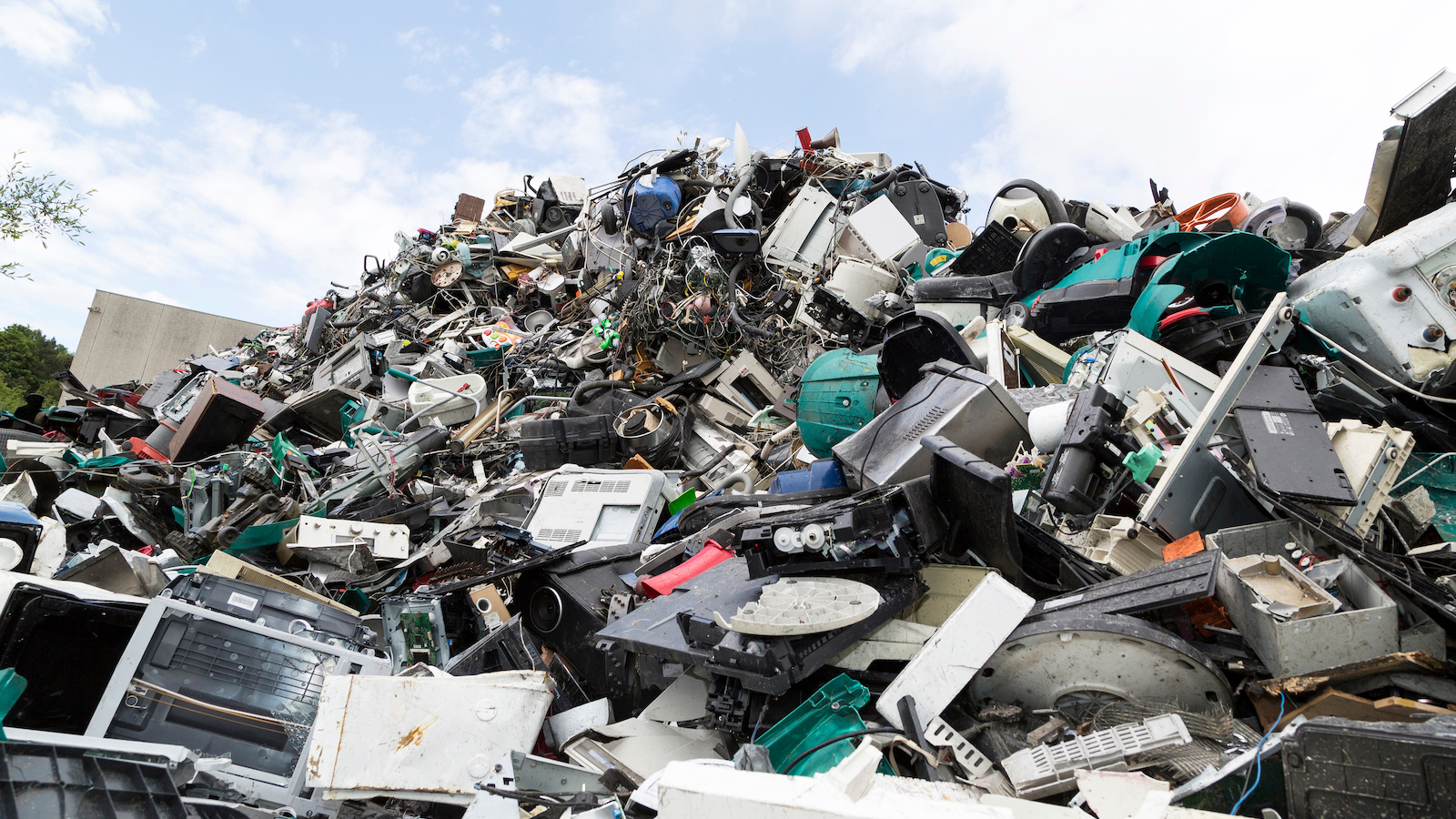 Right to repair
We generate way too much waste, and companies use their power in the marketplace to make things harder to repair. This only adds to the amount of waste going to landfills. We support Senate Bill 542, which would give every Oregonian and every small business access to the parts, tools, and service information they need to repair products.
Building a clean energy future
From extreme drought, heat and wildfires to rising seas that put our coastal communities at risk, Oregon is already facing the impacts of global warming. These consequences, and others, will only grow worse unless we cut the carbon pollution fueling global warming and continue Oregon's transition to 100% renewable energy.
That's why Environment Oregon supports:
Clean energy homes.

We have the ability to harness clean, abundant energy from the sun, the wind and the earth, and to fully repower our society with 100 percent renewable sources. Federal tax credits and rebates passed under the Inflation Reduction Act makes it easier and more affordable than ever to electrify our buildings. Not only are electric technologies like heat pumps and induction stoves more efficient, they can also be powered by renewable energy like solar and wind rather than fossil fuels. We support policies in Oregon that further encourage a shift away from burning fossil fuels in our residential and commercial buildings and power our homes and businesses with clean energy.

The Cleanest Energy: Efficiency & Conservation.

Improving energy efficiency saves energy, lowers bills, makes homes and workplaces more comfortable and reduces pollution. For all these reasons, reducing energy waste should be the first fuel we turn to. 

Go Big on Offshore Wind.

Wind power is a key component in our energy future. It's a huge new harvest from America's fields and farms, providing nearly three times the electricity it did 10 years ago. But a largely untapped resource are the big, steady winds that blow off our coasts. Environment Oregon supports responsible wind development off of Oregon's coast to help in the transition to a future powered by renewable energy. 

Clean Lighting Standards (HB 2531).

Fluorescent lights contain mercury, which is a potent and persistent neurotoxin, by design. Today, non-toxic, highly efficient alternatives are broadly available. It's time for Oregon to phase out fluorescent lighting and eliminate a toxin from the waste stream, reduce energy waste and save consumers money.
Stopping toxic threats
There are more than 80,000 chemicals on the market in the United States, most of them put directly into use without testing the long-term consequences for our health or their impact on our environment. We should make sure that any chemical in use is safe, eliminate those we know are dangerous, and stop using any that are damaging healthy ecosystems. 
Environment Oregon supports:
Toxic-Free Kids (HB 3043).

The Toxic Free Kids Act of 2015 was an important step forward for environmental health and keeping our state's children safe from dangerous chemicals. But unfortunately, Oregon's kids can still be exposed to dangerous chemicals in children's products. We support a bill that will expand and strengthen the Toxic-Free Kids Act to ensure the health and safety of Oregon's kids.

Toxic-Free Schools (SB 426).

Children are especially sensitive and susceptible to the dangers of toxic chemicals. A proposed bill will increase transparency around pesticide use at Oregon schools so we can minimize the spraying of the worst pesticides on school grounds, especially close to where kids play. 

Toxic-Free Cosmetics (SB 546).

Every day, Oregonians use soaps, shampoos, makeup and other personal care products without realizing that those products could contain chemicals that present serious health risks. We support a bill that would require public disclosure about the worst carcinogens found in cosmetics and personal care products, and ban their sale in Oregon.
Protecting Oregon's ocean
Home to diverse wildlife from the smallest krill to large gray whales, the ocean off of Oregon's coast — and the ecosystems they support — are worth preserving for future generations. We support HB 2903 to fully fund Oregon's marine reserves program and ensure its continued success. We also support finding opportunities to protect even more special places off of our coast.
Destination: Zero Carbon
Transportation is Oregon's number one source of global warming pollution, with greenhouse emissions from cars, trucks, buses and other vehicles surpassing every other source. We simply can't solve global warming without changing how Oregonians get around. Environment Oregon supports policies that encourage the shift to zero emission vehicles and reduce the need to drive by making it easier, cheaper and more enjoyable to travel on foot, bike or public transit. 
Healthy farms, healthy environment
The term "Oregon farms," elicits thoughts of our state's core values: small farms, clean air and water, and healthy local food. Unfortunately, in recent years, mega-dairies and large chicken farms have been moving into rural Oregon and polluting the air with dangerous gases including methane, a powerful greenhouse gas, and contaminating surface and groundwater with nitrates, pharmaceuticals, and pathogens. We support stopping the expansion of mega-dairies and large chicken farms in Oregon. (HB 2667)
Tell state lawmakers: Phase out inefficient light bulbs that contain toxic mercury
Tell state lawmakers: Phase out inefficient light bulbs that contain toxic mercury
It's time to say farewell to fluorescent bulbs.
SEND A MESSAGE
Topics
Authors
State Director, Environment Oregon
As director of Environment Oregon, Celeste develops and runs campaigns to win real results for Oregon's environment. She has worked on issues ranging from preventing plastic pollution, stopping global warming, defending clean water, and protecting our beautiful places. Celeste's organizing has helped to reduce kids' exposure to lead in drinking water at childcare facilities in Oregon, encourage transportation electrification, ban single-use plastic grocery bags, defend our bedrock environmental laws and more. She is also the author of the children's book, Myrtle the Turtle, empowering kids to prevent plastic pollution. Celeste lives in Portland, Ore., with her husband and two daughters, where they frequently enjoy the bounty of Oregon's natural beauty.