Environment Washington's 2023 Program Agenda
Washington's natural wonders enrich our lives in countless ways.  Here are our Environment Washington's program priorities for 2023 to protect Washington's air, water, and special places.
Close
Tell your state legislators to support producer responsibility
Tell your state legislators to support producer responsibility
Take Action
Every day, we see more heartbreaking evidence of the damage being done to our planet: climate change, plastic pollution, wildlife disappearing forever. But, we also see solutions all around us: solar and wind power, cities that are increasingly more walkable, bikeable, and transit friendly, restoring critical wildlife habitat, and so on. At Environment Washington, our mission is to transform the power of our imaginations and our ideas into change that protects these special places and makes our world a greener and healthier place for all.
Here are our program priorities for 2023:
Wildlife over Waste
Nothing we use for a few minutes should pollute the environment and harm wildlife for hundreds of years. Plastic pollution is creating an environmental disaster for ocean wildlife:  plastic and other marine debris kills millions of seabirds and marine mammals every year. Plastic also contributes to climate change at every step of its lifecycle, from production to  pollution. It's time to move beyond single-use plastic by getting rid of the most harmful waste, and stop the use of things we truly don't need. That's why Environment Washington supports:
Making Waste-Makers Responsible. Washingtonians throw out an enormous amount of plastic every day. Yet, the companies whose products produce the most waste have little incentive to change. That's why we're calling for producer responsibility laws, which can hold companies financially responsible for the waste their products create and incentivize reducing the amount of packaging produced and utilizing better packaging design in the first place. The WRAP Act (HB 1131) would help improve Washington's recycling outcomes through establishing a producer responsiblity system and a deposit return system. 
Phasing out unnecessary single-use plastics we can live without. Washington has banned some of the worst kinds of single-use plastics, like thin-film plastic grocery bags and polystyrene cups, food containers, packing peanuts, and more. Environment Washington supports HB 1085, which will require water bottle refill stations in new construction to help transition to reusable water bottles, phase out single-use plastic packaging for personal care products at lodging establishments, and eliminate foam docking.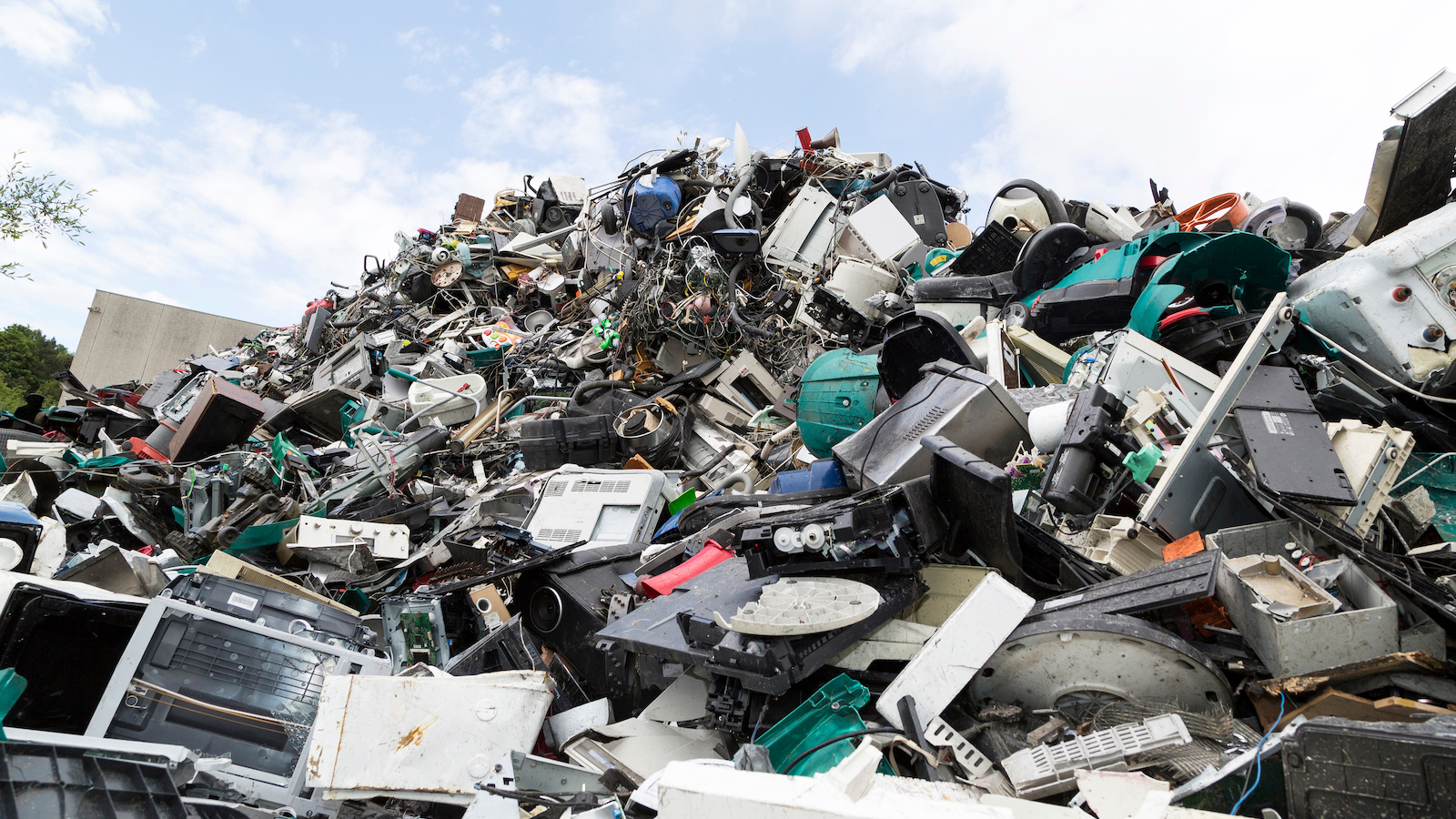 Right to Repair
The throwaway economy causes us to generate too much waste, in the form of single-use plastics and packaging as well as short-lived consumer objects. Americans dispose of 416,000 cell phones per day, and only 15 to 20 percent of electronic waste is recycled. Consumers and small businesses should have access to the parts, tools and service information they need to repair products so we can keep things in use and reduce waste. Environment Washington the Fair Repair Act, HB 1392/SB5464, to give Washingtonians the Right to Repair their personal electronic devices.
Save Our Orcas
Fewer than 75 Southern Resident orcas remain today. The population was listed as endangered under the Endangered Species Act in 2005; its population since then has continued to decline. The population continues to struggle with reduced quantity and quality of their main food source, Chinook salmon, pollutants that could cause immune or reproductive dysfunction, and excess vessel noise which can interfere with their hunting. Environment Washington supports:
Removal of dams

including the four Lower Snake River dams to promote salmon restoration. We support funding in the state operating and capital budgets to advance the replacement of the dams, including funding for establishing an interagency workgroup, a study to detail transportation alternatives to barging on the lower Snake waterway, and an irrigation analysis. 

Restoring salmon habitat

through improving marine, freshwater, and riparian environments throughout the state of Washington and the greater range of the Southern Resident orcas. 
Clean, Renewable, and Efficient Energy
We have the ability to harness clean, abundant energy from the sun, the wind and the earth, and to fully repower our society with 100 percent renewable sources. But reaching Washington's commitment to 100% clean energy by 2045 requires that we invest today in that future. That's why Environment Washington supports:
Clean energy homes:

Not only are electric technologies like heat pumps and induction stoves more efficient; they can also be powered by renewable energy like solar and wind rather than fossil fuels. Environment Washington strongly supports the Washington State Building Code Council's decisions last year to require heat pumps in both residential and commercial buildings. Federal tax credits and rebates passed under the Inflation Reduction Act and dollars from Washington's Climate Commitment Act can make it easier and more affordable than ever to electrify our buildings. We urge the legislature to fully support this transition to all-electric buildings through both supplemental policies and funding. 
Investing in Clean, Renewable Energy and Storage

: Completing the transition to 100% renewable energy will not only mean building out more solar and wind energy, but will also require the ability to store energy for later. Building out electric battery energy storage in combination with solar and wind will allow us to reap more renewable energy, while also building a more resilient and reliable grid that delivers clean power when and where we need it most.
Zero Out Toxics:
Too many Washingtonians are exposed to harmful chemicals like lead or PFAS (per and polyfluoroalkyl substances) through everyday consumer products or even through their own drinking water. Environment Washington supports:
Stopping Toxic PFAS: We are exposed to PFAS "forever" chemicals, which are linked to cancer and other illnesses, in water, food, and consumer products. We're working to stop the use of PFAS in consumer products, clean up contamination in our water and communities, and to hold industry accountable for damage they have caused, and support the Toxic Free Cosmetics Act (HB 1047).
Clean Lighting Standards: Fluorescent lights contain mercury – which is a potent and persistent neurotoxin – by design. Today, non-toxic, highly efficient alternatives are broadly available. Washington should phase out fluorescent lighting to eliminate a toxin from the waste stream, reduce energy waste and save consumers money by passing HB 1185.
Getting the Lead Out.

  In 2021, the Washington state legislature passed the Environment Washington-backed "Bruce Speight Act," to establish mandatory lead testing in all Washington public schools, limit lead in school drinking water to 5 parts per billion (ppb) and help schools remediate their taps. But unfortunately, we still have work to do to prevent lead contamination in drinking water.

Washington should

utilize state and federal funding to proactively replace lead-bearing fountains with filtered water stations, install filters on all other taps used for cooking or drinking at schools, and replace lead service lines in the state.
Destination: Zero Carbon
Transportation is the number one source of our state and country's carbon pollution and contributes to air and water pollution which has significant health impacts. To slow global warming and reduce this pollution, we need to change how Washingtonians get around. New federal funding makes investing in clean transportation more accessible for Washington. We support: 
Driving less, living more.

We need to reduce the need to drive by making it easier, cheaper and more enjoyable to travel on foot, bike or public transit

and investing

in multi-modal transportation. 

Electrifying buses and trucks.

Dirty diesel school buses add to our carbon emissions while putting millions of children at risk of cancer and respiratory diseases. We're calling for all school and public transit buses to be electric by 2030. To get there, we're asking local, state and regional officials to replace diesel-powered school buses and public transit buses with clean electric buses. Further, we support Washington's Climate Commitment Act investments in a point-of-sale voucher program to incentivize decarbonization of medium and heavy-duty vehicles. 

Electrifying cars.

We support Washington's commitment to get to 100% zero emission vehicles sold by 2035 and encourage decision-makers to keep investing in the infrastructure needed to help all consumers make the transition.
Protect Our Forests
Our forests, both in Washington and across the globe, and on land and underwater, provide habitat for critical species and help us fight climate change. Environment Washington is calling on major companies like Costco to stop logging in primary forests and require paper products to include at least 50% recycled content. State and local policies should protect critical forest and trees from logging, degradation and deforestation. Additionally, we support Washington's commitment to conserve or restore 10,000 acres of the Salish Sea's underwater kelp forests and eelgrass meadows by 2040 and encourage decision-makers to make appropriate investments to hit these goals. 
Reconnecting Nature
Human development has fragmented key habitats into disparate populations. If these populations remain separated, species will be unable to adapt to climate change because of shrinking genetic diversity. Many salmon species are endangered due to disruptions in their migration from the sea to inland headwaters. Further, animals that try to cross roads that cut through their previous migratory routes cause increased animal-motorist collisions.  We support investments in infrastructure that reconnect nature, making it easier for wildlife to migrate, locate food and find mates.
Topics
Authors
Advocate, Environment Washington
As an advocate with Environment Washington, Pam develops and runs campaigns to protect Washington's air, water, and special places. She has worked on issues ranging from clean energy climate solutions, preventing plastic pollution, defending clean water, and protecting our special natural spaces. Pam lives in Steilacoom, Washington, where she enjoys kayaking on the Puget Sound, gardening and hiking in the surrounding mountains.