2023 Legislative Wins and Missed Opportunities
Celebrating wins on plastic reduction, orca protection and climate, and reflecting on missed opportunities from Washington's 2023 legislative session.
Close
Tell your state legislators to support producer responsibility
Tell your state legislators to support producer responsibility
Take Action
Every year, guided by our program agenda and with the support of our thousands of members across the state, Environment Washington advocates in Olympia to advance state level legislation that would create a cleaner, greener future for Washington. The 2023 legislative session ended last week, so we wanted to highlight some of the progress that was made this year, and some of the missed opportunities.
Progress on plastic reduction, climate action, protecting orcas, and reducing toxic hazards.
Reducing plastic pollution
The Plastic Pollution Reduction Act (HB 1085) sailed through the Washington legislature with broad, bipartisan support. The bill, sponsored by first year legislator Representative Sharlett Mena (D-Tacoma), will:
Require newly constructed buildings built with water fountains also contain bottle filling stations;

Phase out the use of small plastic containers, wrappers and packaging for personal care items like shampoo or soap by hotels and other lodging establishments;

Ban soft film-wrapped floats and docks; and mandates a study of hard-shell foam-filled floats and docks.
This plastic reduction measure unanimously passed the house by a vote of 97-0, and advanced through the Senate by a vote of 37-11. We are heartened that the Washington legislature continues to eliminate unnecessary and harmful sources of plastic pollution, putting Washington's wildlife over waste.
Save Our Orcas
Environment Washington is celebrating several wins from this legislative session related to our Save Our Orcas campaign. 
First, the legislature passed SB 5371, the Orca Protection Act, which increases the required distance that all boats need to stay away from endangered Southern Resident orcas to 1000 yards. Noise pollution from vessels can interfere with the Southern Resident orcas' ability to use echolocation to catch prey. Extraneous noise not only makes it harder for southern residents to hunt, but also reduces the likelihood that they'll even try to hunt. By increasing the allowable distance that boats need to stay from these endangered whales, the Southern Residents will have quieter waters and hopefully, an easier time getting their next meal. 
We are also celebrating that the Washington state legislature included funding in the 2023-2025 Transportation and Operating Budgets which will support necessary planning for transitioning the energy, transportation, and irrigation services currently provided by four aging dams on the lower Snake River.   Last summer, Gov. Inslee and Sen. Patty Murray recommended removal of the Lower Snake River dams as a critical measure for restoring endangered salmon and orca populations, though not before replacing the services provided by these dams. We applaud the Washington legislature for taking these concrete next steps to recover salmon, restore the lower Snake River while continuing to build out Washington's clean electricity future.
Last, the state legislature increased funding for salmon recovery in the operating and capital budget packages by 10-20% compared to previous salmon recovery budgets. These investments include: 
More than $410 million on programs that will protect and restore Puget Sound water quality and other waterways in Washington 

$50 million for grant programs that will restore riparian habitat, the land next to streams and rivers that help our waterways stay cool and clean
Over $10 million to address other issues that affect salmon health, like tire dust, containing 6PPD-quinone that is toxic to salmon, and more.

Act on Climate 
The Climate Commitment Act is a landmark policy passed in 2021 that caps climate pollution and makes polluters pay for their emissions. We applaud the Washington legislature for utilizing newly available funds, raised from the Climate Commitment Act to support programs that will help cut carbon pollution, reduce emissions, and invest in the health of local communities.
Big investments in clean transportation to reduce pollution from larger vehicles and increase charging infrastructure include:
$120 million for a medium and heavy duty vehicle and charging program

Over $37 million for charging along priority transportation corridors
New and increased investment for affordable, cleaner homes and buildings include:
$80 million to fund a heat pump program that prioritizes low- and moderate-income households, 

$40 million to fund home weatherization improvements to conserve energy and protect health.
Toxics Free Cosmetics Act
Hazardous chemicals like PFAS, phthalates, and formaldehyde have been found in a number of cosmetic and personal care products. Exposure to these chemicals can contribute to health impacts ranging from reproductive effects to cancer, and they have no place in any consumer product, especially products that people put directly on their body. The Toxic-Free Cosmetics Act (HB 1047) will ban these chemicals from being put into cosmetic and personal care products, protecting the health of Washingtonians and the environment.
Responsible Battery Recycling 
Rechargeable lithium ion batteries, like the ones in our phones, electric toothbrushes, and countless other electronics, are becoming more and more prevalent. However, these batteries can cause serious fires in recycling and garbage trucks and facilities. Additionally, improper disposal of rechargeable batteries prevents us from reclaiming critical minerals that we can recycle into new batteries.  SB 5144 will make battery manufacturers responsible for the lifecycle of their products and create incentives for battery manufacturers to make batteries that last longer or are easier to recycle, and support convenient and responsible recycling of batteries in a statewide program. We eagerly await Gov. Inslee's signature on this exciting zero waste policy.
Washington Recycling And Packaging (WRAP) Act (HB 1131)
We were disappointed that the legislature wrapped up without advancing the WRAP Act, which would have helped address the growing amount of unnecessary packaging in Washington –much of which is plastic and not recyclable.
The WRAP Act would have established several programs to increase Washington recycling rates and incentivize companies to reduce packaging and switch remaining packaging to reusable, compostable, or recyclable alternatives. These complementary mechanisms to improve recycling and reduce waste included:
Establishing a producer responsibility system

, requiring the companies that actually make packaging decisions to be financially responsible for the end-of-life management of these materials, rather than those costs falling on Washington residents. This model has proven successful around the world, and similar programs have recently been established by state legislatures in California, Oregon, Colorado, and Maine.

Creating a bottle deposit program

, which has been shown to generate very high recycling rates for beverage containers.

Setting up post-recycled content standards

for materials, requiring that packaging incorporate certain targets of recycled content by certain dates.
Reducing waste and moving towards a circular economy will continue to be a priority of Environment Washington and the broader Plastic Free Washington coalition. Sign up here to learn more about how you can help this effort to reduce plastic and improve recycling in Washington.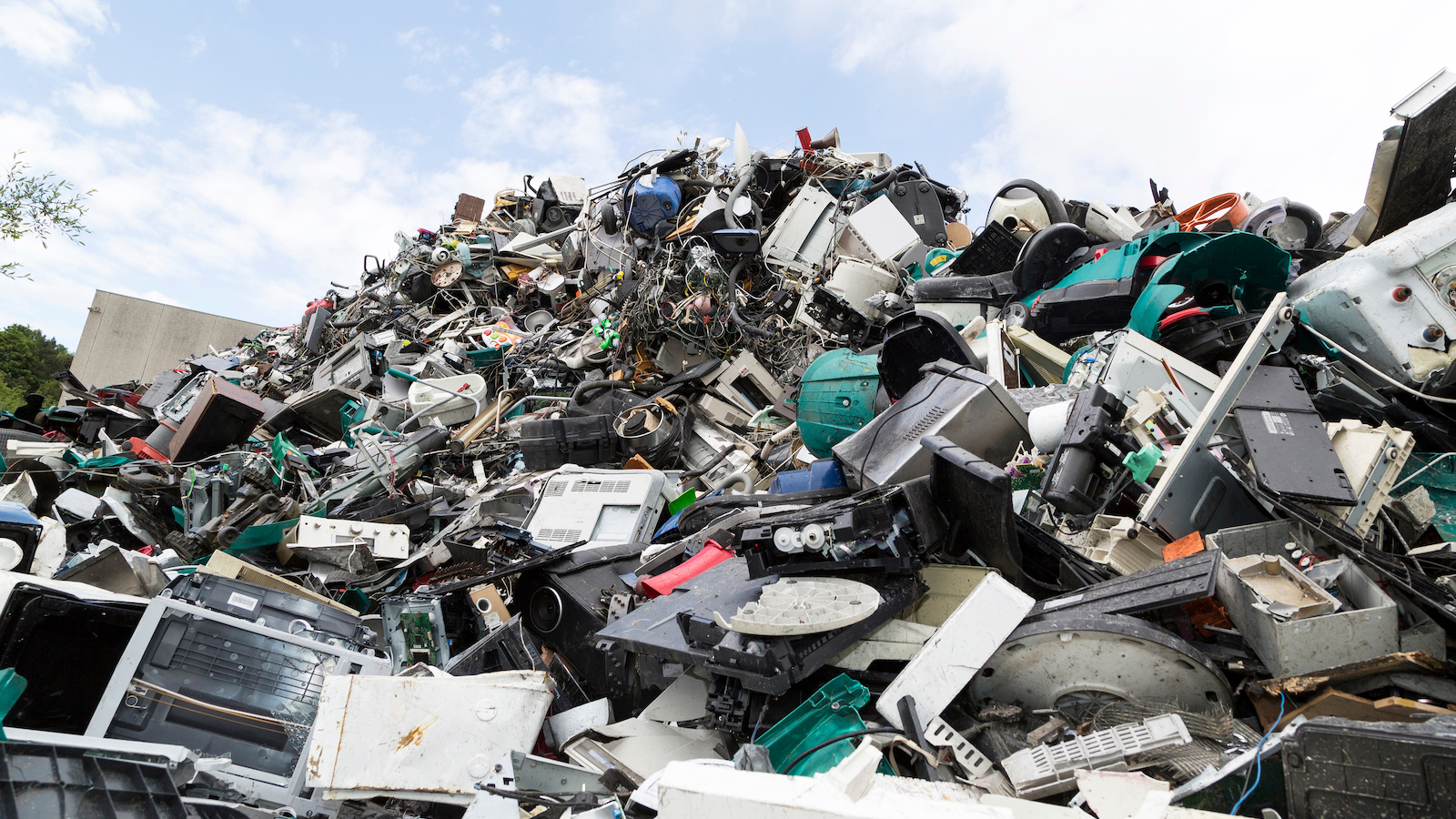 The Fair Repair Act
HB 1392 would have expanded affordable and accessible electronic repair choices to Washingtonians by requiring that manufacturers provide consumers and independent repair shops with the same parts, tools, and information that they already give to their authorized repair providers. Electronics are frequently sent to landfills instead of being repaired as manufacturers restrict repair technology or information, which is part of why e-waste is the fastest growing waste stream in the country.
This policy was supported by a broad coalition of stakeholders, including tech companies like Microsoft, repair shop owners, educators and school board members,and  environmental and consumer advocates. Additionally, the policy found bipartisan support in the Washington State House of Representatives and advanced further in the legislative process than efforts in previous years to establish Right to Repair for consumer devices. We are encouraged by this progress and hope that equivalent efforts in other states are successful, and look forward to advocating for less electronic waste and Washingtonian's Right to Repair in the year to come.
Clean Lighting Standards (HB 1185)
Mercury is a powerful neurotoxin that threatens our health and the environment. Fortunately, Washington passed a statewide recycling program for mercury containing lights 13 years ago. Despite this, improper disposal of mercury-containing products-  like fluorescent lights- continues to pollute the environment and impact workers in our solid waste systems. LED light bulbs now provide an excellent alternative to mercury containing lights and have many benefits: they're cost-effective, they cut energy use by about half compared with fluorescent lamps, and they don't contain mercury. 
In future legislative sessions, we look forward to drawing a spotlight to this common sense policy that would have phased out mercury containing lights- which LED's make possible with ample benefit to consumers and the environment – and transitioned the state's product stewardship program to responsibly manage the end-of-life of all types of lights. 
Requiring Clean Electric School Busses (HB 1368)
Dirty diesel school buses add to our carbon emissions while putting millions of children at risk of cancer and respiratory diseases. HB 1368 would have required that all new school bus purchases be zero-emission starting in 2035. Additionally, the bill would have set up a zero-emission school bus grant program to help school districts make the switch from dirty diesel to emission-free buses. While this bill failed to make it through the House, the legislature allocated $120 million in the 2023-2025 state budget for medium and heavy duty vehicle electrification, which can be used for school bus electrification. In the meantime, we will continue our call for school and transit buses to be fully electric by 2030. 
Topics
Authors
Advocate, Environment Washington
As an advocate with Environment Washington, Pam develops and runs campaigns to protect Washington's air, water, and special places. She has worked on issues ranging from clean energy climate solutions, preventing plastic pollution, defending clean water, and protecting our special natural spaces. Pam lives in Steilacoom, Washington, where she enjoys kayaking on the Puget Sound, gardening and hiking in the surrounding mountains.