Oregon is powered by more renewable energy than ever before, has room to grow
Our new interactive dashboard allows users to explore clean energy growth in Oregon and across the country over the past decade.
The past decade has seen exciting progress in clean energy. America produces more than three times as much power from the sun, the wind and the earth as we did in 2013, with growth in all 50 states. Key technologies such as electric vehicles and battery storage are also booming – helping to power America with clean energy.
We released a new dashboard today, Renewables on the Rise 2023, which documents the growth of six key clean energy technologies across the United States over the past decade: solar power, wind power, battery storage, energy efficiency, electric vehicles and electric vehicle charging stations.
So how does Oregon stack up?
Renewables On The Rise Dashboard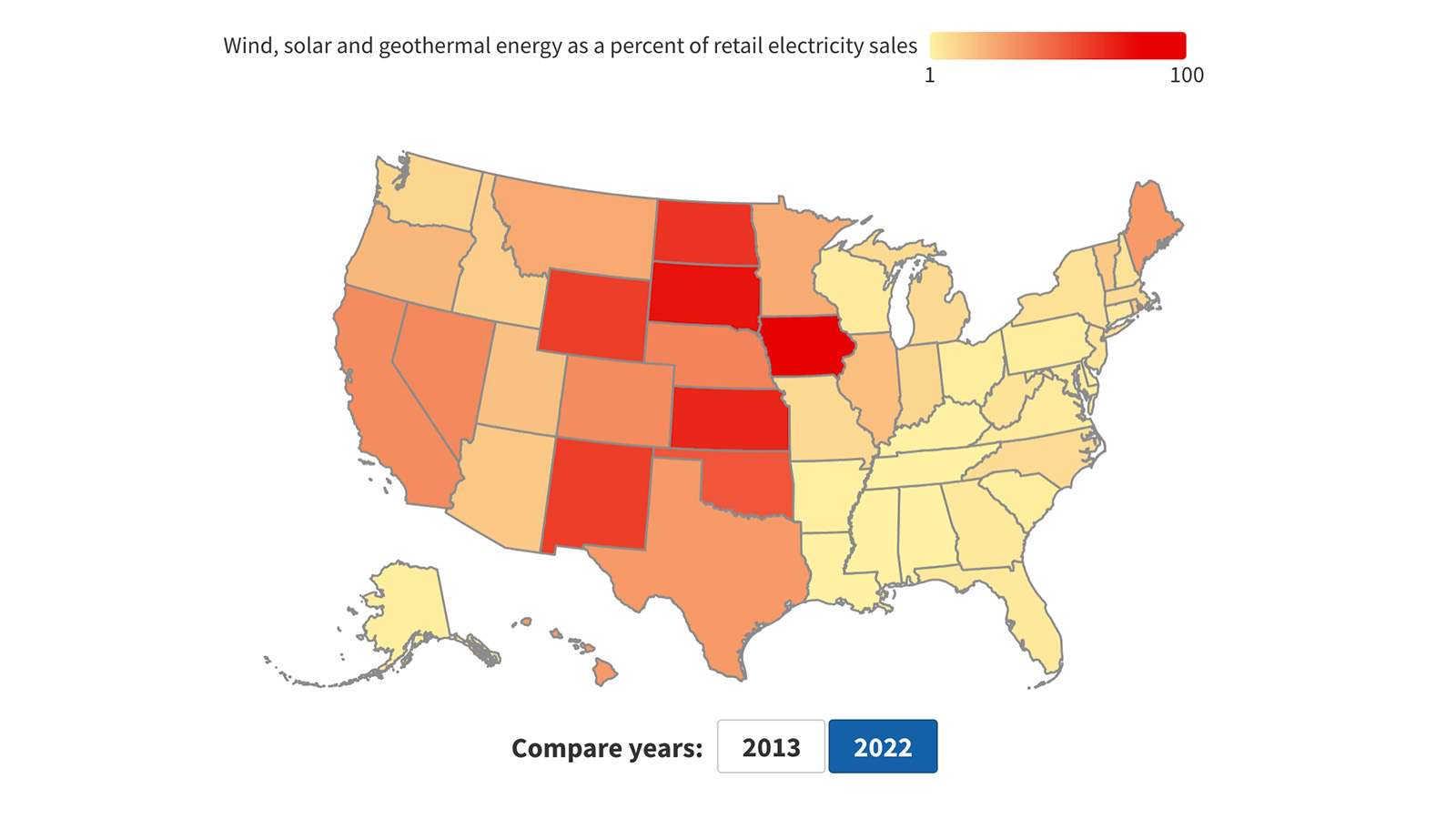 Renewables On The Rise Dashboard
Despite an overall middle of the pack rating for growing clean energy, there are bright moments for Oregon. The Beaver State has seen a 23-fold increase in the amount of electricity it gets from the sun over the past decade, compared to a 12-fold increase nationally. Solar is growing faster in Oregon than nationwide, but not as fast as leading states like California, Texas and Florida. Oregon currently ranks 18th in the country for growth in solar power generation since 2013.
Oregon came in 21st in growth in wind power, 16th for growth of battery storage capacity, 16th for growth of sales of electric vehicles and (a disappointing) 44th in growth of energy savings, as compared to other states.
All in all, Oregon is making important progress in getting more of our energy from renewable sources, but there's still a lot of room to grow.
Incentives, among other local, state and federal policies, can help give these clean energy technologies a boost. The Inflation Reduction Act, passed by Congress and signed by President Joe Biden in summer 2022, continues federal tax credits for renewable energy, such as wind and solar, through 2032. It also provides rebates for home efficiency upgrades and the purchase of heat pumps, electric induction stoves and other efficient electric appliances and equipment. In addition, the Inflation Reduction Act provides tax incentives to encourage individuals and businesses to buy electric vehicles. You can find out more about these incentives in our Clean Energy Home Toolkit.
Clean Energy Home Toolkit
Clean Energy Home Toolkit
Millions of people are already reaping the benefits of the dramatic clean energy progress we've made so far. With federal tax credits promising to turbocharge clean energy, now is the time for states to lean in on clean energy and transform the vision of 100% clean and renewable energy for Oregon into a reality. 
Producing power in ways that doesn't pollute our air or make our kids sick has so many benefits. The sooner we make it happen, the better.
Topics
Authors
State Director, Environment Oregon Research & Policy Center
As director of Environment Oregon, Celeste develops and runs campaigns to win real results for Oregon's environment. She has worked on issues ranging from preventing plastic pollution, stopping global warming, defending clean water, and protecting our beautiful places. Celeste's organizing has helped to reduce kids' exposure to lead in drinking water at childcare facilities in Oregon, encourage transportation electrification, ban single-use plastic grocery bags, defend our bedrock environmental laws and more. She is also the author of the children's book, Myrtle the Turtle, empowering kids to prevent plastic pollution. Celeste lives in Portland, Ore., with her husband and two daughters, where they frequently enjoy the bounty of Oregon's natural beauty.